Currently there aren't many shortboards on the market and even fewer worth buying. Because of that, this list is pretty short. Most of the Chinese board companies have just released their new longboards (Backfire Zealot, ONSRA Black Carve, Exway Flex, etc.) and now seem to be moving to update their shortboard and AT lines. Since this is a short list, I'll include a few of these unreleased boards to keep an eye on.
Shortboards often struggle with comfort compared to a flexible longboard due to rigidity being perhaps the only option for a short deck. There are certainly riders who are fine with running thinly sleeved hub motors on a shortboard and there are nice options here that do offer hubs, but we would highly suggest a board running a belt-driven or direct drive system if you value more comfort. Both systems feature 4 full urethane wheels to soak up those nasty bumps and rough surfaces, but they are generally more expensive.
Meepo Mini 2 ($379/$579)
Ownboard M1 ($469/$569)
Backfire Mini ($549)
BKB Mini Kit - preorder ($599/$799)
Exway Wave - preorders shipped 9/24/2020 ($649/$699)
| | Meepo Mini 2 Standard/ER | Ownboard M1/ER | Backfire Mini |
| --- | --- | --- | --- |
| Deck | 30" 7-Ply Maple | 30" 8-Ply Maple | 31" Carbon Fiber |
| Weight | 16 lbs/18 lbs | 15.8/17.7 lbs | 13.2 lbs |
| Wheels | 90mm 78A | 90mm 78A | 85mm/96mm 78A |
| Drivetrain | Hub | Belt | Hub |
| Battery | 10s 144 Wh/288 Wh | 10s 144 wh/288 wh | 10s 175 Wh |
| Price | $379/$579 | $469/$569 | $549 |

The Meepo Mini 2 is a well rounded hub driven shortboard. It features a deep dish 30-inch deck which is very similar to the fantastic Boosted mini deck. The electronics on this board are the same as the V3 and NLS Pro so it's got plenty of power. Top speed is high for a board in this class while acceleration is a bit slower due to the hub motors (and smaller battery in 144 Wh version). The other thing to note about the hub motors on the Mini 2 is that they have pretty thin urethane on them which makes for a bumpy ride.
Meepo has again included Shredder trucks on this board which is really good to see. These have been included on many other Meepo boards so they're proven great for carving. You also get an OLED remote in the box which lets you choose from 4 acceleration curves and 4 brake curves independently. It also displays a lifetime odometer, trip odometer, and battery indicators for remote and board.
At $379/$579, the Meepo Mini 2 is an excellent value and we'd highly recommend it if you're looking for a budget shortboard.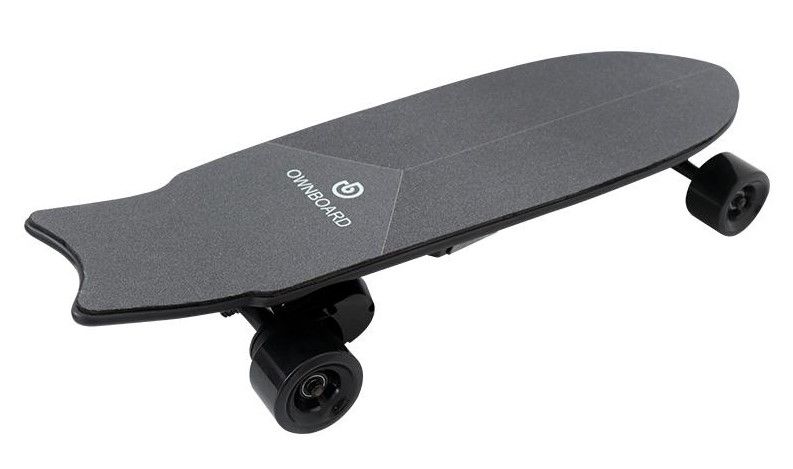 The Ownboard M1 is a basic, no frills belt driven shortboard. It features the exact same components as an introductory Ownboard W2 longboard, but on a fishtail cruiser. With the exact drivetrain on the W2, performance is likely to be one the mellower side compared to faster competitors, but still powerful enough to potentially rival or outpace the Boosted Mini X. We think it'll be pleasantly powerful and comfortable enough for most users with what appears to be foam grip tape.
What's nice about Ownboard's belt-driven longboards compared to even the most reputed budget competitors is that the company actually includes Kegel pulleys in the package along with the stock ABEC setup, meaning you don't have to buy pulleys separately from Ownboard after the board ships. This means you have quicker access to some of the most stylish and popular American-made wheels on the market, like Orangatang Kegels and Caguamas, Boas, Hyperdrives, etc.
The Samsung 40T battery pack will make the board 2 lbs heavier for twice the range compared to the 20R pack. We would suggest the cheaper 20R for short, lightweight commutes where you have to carry the board often. For a $100, you could potentially double the range to 16 miles on the 40T pack, but in the event that you actually use all that range in one session, again we would suggest running bigger and softer wheels to compensate.

The Backfire Mini is a sleek and premium shortboard. It features a carbon fiber deck with battery and ESC enclosed inside. While this does make the board look cool, it does mean that the deck has almost no flex. This results in a much bumpier ride than a regular bamboo/wood deck. Luckily, Backfire used foamy griptape which helps smooth out the ride a bit. The rest of the skate hardware is high quality with caliber truck clones and the standard Backfire wheels. The board doesn't have great range due to the smaller battery but if you're looking for a lightweight, discrete, and premium shortboard, this is a great option! For a full review, check out electricskateboardhq.

BKB Mini Kit - preorder ($599/$799)
This board is a bit of an oddball since it doesn't come as a complete board. It's actually a kit that includes all of the parts needed to build it and you do all of the assembly yourself. This board uses hobbyist grade parts like VESCs, high power motors, and the VX1 remote (currently a well-liked staple in DIY builds). These parts allow for a higher degree of performance than what you'll find from any mainstream (non-boutique) company and allow for a high level of customization if the rider is willing to put in the time.
Based on the photos, the deck looks like it has an excellent shape (even has wheel flares!). This is definitely a board to keep an eye on if you're looking for the most powerful and fastest street shortboard.
Kev (owns this board) would personally suggest the pricier dual motor kit over the single motor kit since 2 wheel drive controls more linearly than a single motor and the $800 kit comes with a bigger battery. This will add weight on an already heavy board, but it's worth it!
Exway Wave - unreleased ($649/$699)
Update 9/24/2020: This board has just started shipping preorders so we're going to have lots more information to share soon!
This board hasn't been released (preorder opens in June) yet but luckily we were able to get our hands on some leaked marketing documents and photos. The battery looks to be 20 18650 cells which points to a 10s2p. This is a pretty small battery but the board is rumored to have a fast swap battery system so you could take an extra battery with if you need more range. We'll update this page when more info about the board is known.