The sub $500 price group used to be very competitive when Chinese companies like Meepo and Wowgo first came onto the scene. Recently, many of these companies have been putting effort into creating boards for the mid-tier segment ($500-$750) instead so there aren't as many options here. You likely won't get great support from any of these companies but they all use pretty standard parts that are easy to replace. All of these boards are hub drive as it's the cheapest option and have pretty small batteries compared to the boards in the next price segment.
Apsuboard V3 Dual ($299/$319)
Meepo V3 ($379)
Backfire G2 Black 2020 ($399)
Wowgo 2s pro ($429)
Wowgo 3 ($499)
| | Apsuboard V3 Dual | Meepo V3 | Backfire G2 Black 2020 | Wowgo 2s pro | Wowgo 3 |
| --- | --- | --- | --- | --- | --- |
| Deck | 38in | 38in | 38in | 38in | 38in |
| Weight | 14.77 lbs (6.7 kg) | 16 lbs (7.3 kg) | 16 lbs (7.3 kg) | | 17.2 lbs (7.8 kg) |
| Wheels | 90mm 80A | 90mm 78A | 96mm 83A | 90mm 78A | 90mm 78A |
| Drivetrain | Hub | Hub | Hub | Hub | Hub |
| Battery | 144 Wh* | 144 Wh | 180 Wh | 224 Wh* | 216 Wh |
| App | No | No | No | No | No |
| Price | $299/$319 | $379 | $399 | $429 | $499 |
*unable to verify, Apsu: based on assumed 10s2p configuration, Wowgo source.

Apsuboard V3 Dual ($299/$319)
The Apsuboard V3 Dual is the cheapest board that I'll recommend. This board has been rebranded by many different companies (most notable being the Wowgo 2s). They're all the same board and are basically the cheapest option worth buying. There's a couple different variants of this board but the main thing to look out for is the ESC. Luckily, Apsuboard lets you pick between the LingYi and Hobbywing ESCs.
If you choose the Hobbywing ESC, this board is a cheaper copy of the Wowgo 2S with a slightly better deck. Compared to the LingYi ESC, the Hobbywing is much more responsive but has a bit less power. If this is your first board, I'd highly recommend the Hobbywing as it's much easier to learn on.
If you instead go with the LingYi ESC ($299), you'll get a higher top speed but with more of a "binary" feel to the remote. It's a bit hard to describe but basically the remote feels as if it has a few distinct speed steps so you can't accelerate/brake as gradually.
Other than that, this board doesn't excel at anything in particular but is certainly a solid pick. If you do decide to buy this one, I'd highly recommend upgrading the front truck (Paris V2 is a common choice) as it greatly improves the ride, doesn't cost much, and is easy to install.

Meepo V3 ($379)
The Meepo V3 is a nice step up from the Apsuboard. For the extra money, you get better skate hardware with the Shredder trucks as well as a truly unique design. The deck is a bit better than the Apsuboard but most wont notice a big difference. It's still pretty stiff but does have a good shape to it. It comes with an OLED remote as well as a USB charge port built in to the battery. Meepo switches out their ESC very frequently so I can't comment on how responsive it will be. If this is something that's important to you, I'd highly recommend checking out r/electricskateboarding to see what recent owners have to say. It's likely not going to be an issue though as Meepo has stopped using the "binary" LingYi ESC. Other than that, this board doesn't have any real issues and is a great choice in this price segment.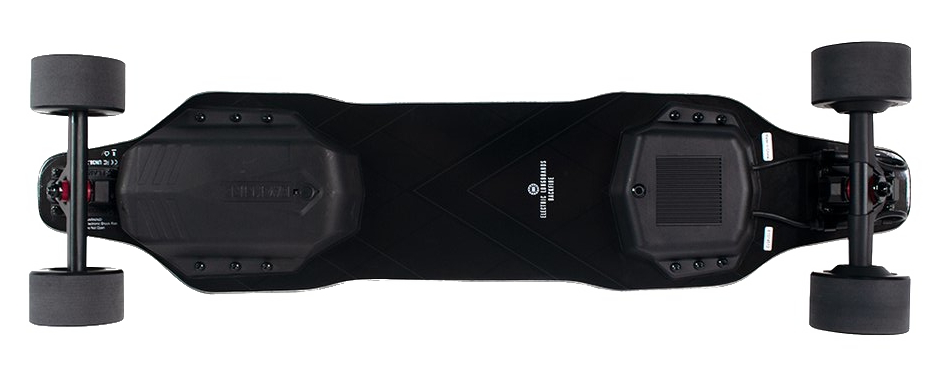 Backfire G2 Black 2020 ($399)
The G2 Black 2020 is pretty similar to the Meepo V3 but with a few great upgrades that make for a much more comfortable ride. First and most importantly, you get more flexy deck. The large 96mm wheels also help provide a smoother ride. The board also has a larger battery than the Meepo which should give you a bit more range. This board was recently updated (late July 2020) by Backfire to include an OLED remote, longer and wider 38in deck, and their new enclosures. It's great to see Backfire coming back to update their older boards with the newest electronics and skate hardware to ensure that us customers get the best bang for the buck!

Wowgo 2s Pro ($429)
The Wowgo 2s Pro is a recent release and came out early June 2021. The deck has a nice concave shape and lots of foot room. It uses the great Hobbywing ESC and even has smart turn on which means you won't ever have to bend down to press the power button on the ESC. This also means that is gets a new remote with an OLED screen and USB-C charging.
This board is a solid option along with the G2 and you should be able to make a decision based on which of the factors above you value most. Personally I believe the most important factors when deciding between these two is the deck, battery, and ESC/remote. For more information on the 2s pro, please see this post.

Wowgo 3 ($499)
The Wowgo 3 is a bit of a tough sell over the other boards in this list at $499. The deck is comparable to the G2 Black 2020. The front truck is an authentic Paris V2 which is a well-known excellent truck (back is a Paris clone). Wowgo created custom wheels for this board which are soft and similar to the popular Orangatang Caguamas. You also get the new Hobbywing remote which has an OLED screen as well as a USB-C port for charging. The battery is also a fair bit larger than the G2 Black 2020 and Knight which is always good to see.
Overall, it's a solid and well put together board that checks all the boxes for this price range. If you have the extra money and like the look of the board then go for it. My #1 recommendation for this category is the Wowgo 2s pro as it strikes a great balance of price to performance. My second pick would be the Backfire G2 black.