Introduction
So, I finally get introduced to the wonders of downhill longboard full faces after the TSG Pass caught my interest. I previously thought of full face helmets to be clunky, over-the-top, fanboyish, and too cumbersome to justify my needs. After a couple of reads, I went on a helmet journey.
So, after all the TSG praise, I figured I'd give it a shot. I rode with a friend owning a similar helmet (can't quite remember the brand) and he let me temporarily ride with it; luckily it was a good fit. With added safety and optimized ergonomics, I thought the helmet was good and it easily dispelled most of my worries.
To get into the full face game, I initially bought an S1 Lifer Fullface. It would have been the winner and star of this post ... if S1 made a larger size. The highest size possible (23.5 in/almost 60 cm)  did not accommodate for my head at all, then I remeasured to find out that my head was hovering closer to 60 cm, higher than expected plus the helmet is smaller than expected. A head measurement well under 58 cm would do wonders for S1's offering especially if you're buying within the US, but today, it's all about New Olders baby!
Disclosure : If you're new to this blog, we are small and treat this as a side hobby. We don't have nearly the same reach and resources as larger reviewers and influencers. This helmet was bought fairly for my personal consumption and ownership.
I'll edit this if anything new comes up or I've missed something.
New Olders is a Brazilian-based company specializing in highly customizable downhill longboard helmets created on-demand. Many of their flagship helmets (at least the Avitar V2 as far as I'm aware of) are designed to International Downhill Federation (IDF) standards. In layman's terms, these aren't scam pieces of plastic, but serious helmets that will keep you safe under high skateboard speeds. To read up more about the IDF, click here.
My Build
My thought process behind this build was that I wanted something clean, simple, not too garish, yet extremely stylish. If the clothes don't look good in black or white, it can't look good in anything else and luckily, white/black on this helmet is an easy foundation to start from.
My complaint with the customization tool is that maybe the matte colors aren't exactly color accurate. I've seen New Olders repost pictures on Instagram with users' matte helmets and they look drastically different from the tool. If you wanna figure out what your helmet could potentially look like, I would scroll through social media posts. Especially important if you're working with more garish, clashing, bright, and vibrant color schemes.
Cost : $215.80 + $90.24 shipping. Total : $306.04
From order to delivery : 1 month's time. ~3 weeks fabrication, 1 week shipping.
Step 1 : Structure
Manufacturing - Reinforced Fiberglass. I didn't want this helmet to already be more expensive than the TSG Pass and it didn't seem like the carbon options could make the helmet any safer. Buy the carbon options for added looks.
Inner Size - (XL 61-63 cm + Larger Shell). My real head measurement hovers around 59.5 to 60 centimeters or about 23.5 inches. Luckily, bumping up the size proves to be a snug fit for my head.
Frontal Air Takes - Standard Avitar
Step 2 : Colors + Finishing
Main Color - White
Arrow Color - White
Brand Color - Black
Padding Color - Black
Finishing - Glossy (everything)
Step 3 : Visors + Accessories
Visor - Mirrored Silver
Chin Strap - Micrometric
Final Quality Impressions
After a month's long wait. I got the package. Unboxing it reveals a very barebones, rudimentary package. No branded product box, just bubble wrap and the anti-scuffing bag containing the helmet. To me, this doesn't really matter and it doesn't bring down the functionality of the helmet. After all, 33% of the cost comes from just shipping if you live in the US instead of Brazil, so as far as I care, this is actually a $200-ish helmet.
I will admit that there are some quality imperfections. I saw some rough finishes on a few edges and closer to the vents. Otherwise, the helmet is very polished as far as I care.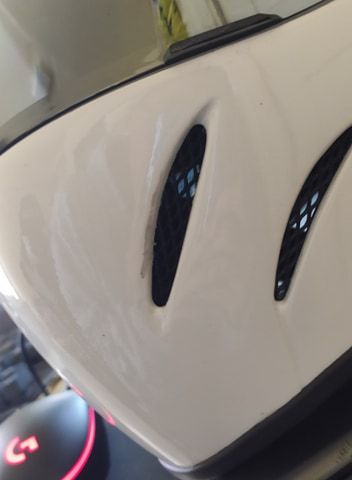 Ergonomics
Now let's get into the fun part. How does this helmet actually ride and feel, especially when coming from a first-time real user?
The first thing you'll notice about putting it on is that it can initially be a tight, compressive squeeze. After that and if you're the perfect size, the inner padding lovingly embraces your head from all sides while padding from the chin to the cheeks perfectly align, cushion, and straighten your jaw to really lock in your dome with the helmet.
Let's also discuss ventilation. I ordered the standard Avitar vents closer to your cheeks. After some riding, I don't think I need the extra 3 vents that are closer to my lips. I even wore a medical mask with the helmet and I didn't feel too stifled. Weather was about 60F, but it got colder later on. With the visor down, you allow no excessive wind to enter your helmet, maintaining pleasant head temperature. On chillier days, this can be great. On warmer days, I could see more usage of the visor being pulled up.
Visual and auditory awareness are always concerns when designing helmets of this form factor. Let's start off with things that I don't like. I don't know if this is universal or exclusive to similar helmets with visors, but I find the visor to distort my view of the ground way under me if I were to look down on the pavement. I give quick glances to the pavement under me to scan the quality of the road, so I adjust my riding style and body stance to brace accordingly. The distortion only occurs if I stretch my peripheral vision WAY down and I've learned to ride without being bothered by that. So, more of an initial annoyance. Obviously with a visor, riding with the sun coming down can darken your view, especially if the visor's aggressively tinted.
Other than that, I can maintain almost all my peripheral vision. I didn't really miss out on any needed audio cues when riding fast with the visor down. Obviously if you want to talk and be heard, pull the visor up.
Ooooh, the jugular strap. I actually quite like it. The micrometric strap is serrated, making the male end of the strap easy to push and lock in while offering minimal play to loosen in the event where crashes pry the helmet away from the head. The strap also comes with padding hanging loosely so that the strap doesn't chafe your neck.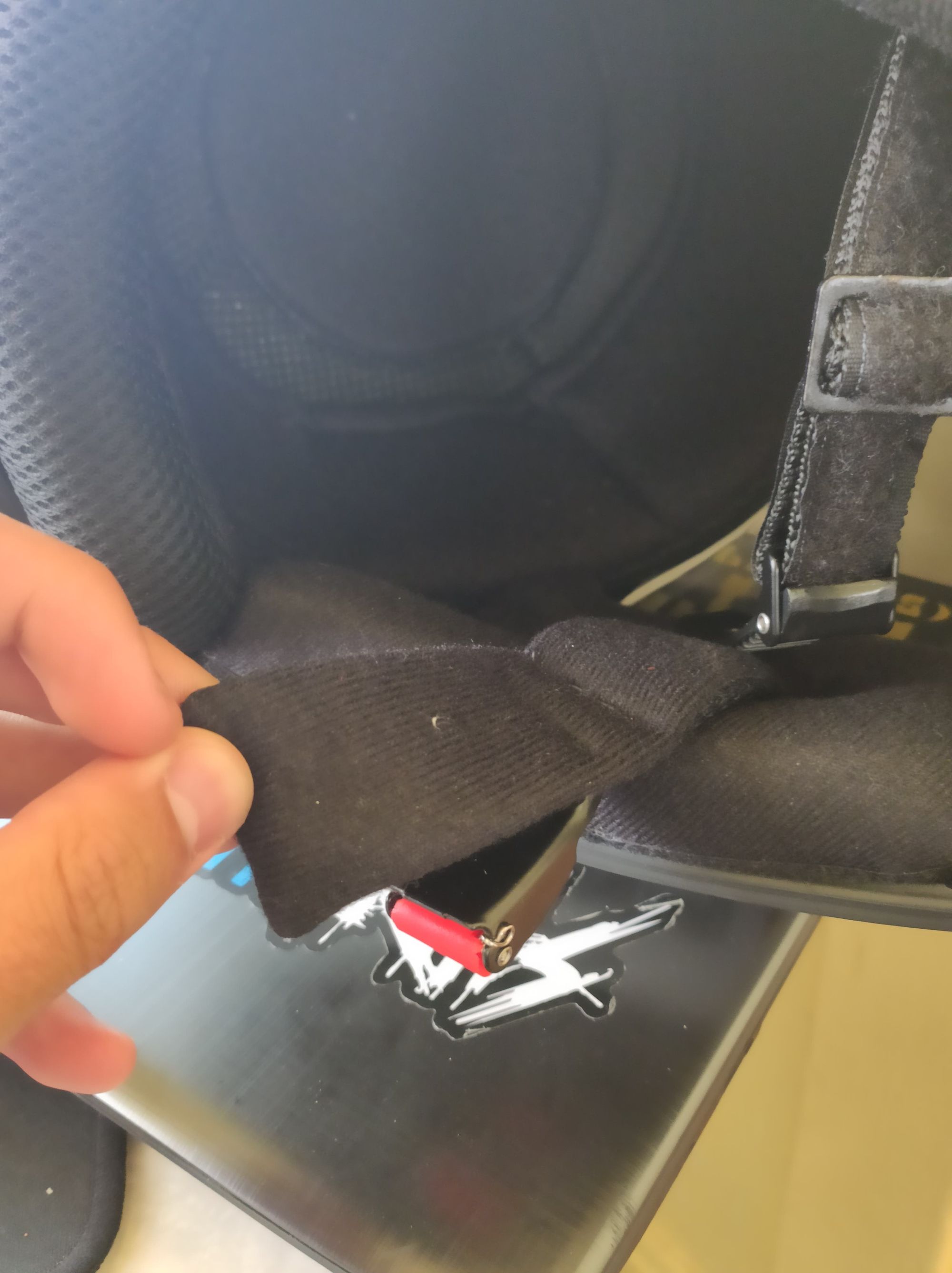 Let's also discuss how this helmet impacts your head movement. Not much at all. If the helmet fits just slightly looser, you might find yourself slightly swinging the helmet around as you turn. With my snug fit, this is not an issue. The helmet is around 2 lbs according to the website, allowing to preserve most of your freedom of movement. I have no issues pivoting and turning my head to check traffic and all that.
Does a full face negatively impact quality of life? Definitely yes. Unless you're perhaps used to being a motorcyclist, there is a lot of inconveniences to work with, especially when you're also an electric skateboarder. As a $300 investment, I want to avoid as many scuffs, scratches, and smears as I can on this glossy helmet, meaning I'm encouraged to bring the protective bag, meaning I have to bring my backpack to store the whole thing, increasing load and inconvenience during shorter, slower trips. In comparison, I have a cheap half shell that I am less afraid to scratch. You also bump into things more since you are expanding your head space. I haven't found cramped spaces too difficult so far. I'll have to keep wearing it to figure out how a full face meshes with my lifestyle.
Considerations
I bought this helmet without trying it. It's highly important that you can physically test fit helmets since sizing is never clear cut. I came in with the assumption that plenty of foreign full face helmets are smaller than what Americans should order, which was a very true case for the TSG Pass, meaning this purchase could've been a VERY BAD gamble. Find a local helmet dealer or a site with a generous return/exchange policy and try before you buy if you can. In the event that you do buy this helmet, it's safer to buy larger than what you measure for your head. If it's too big on the first fit, New Olders offers different padding sizes to be compatible with your helmet.
If you can relate to my measurements and buying experience and think that this is the helmet for you, I would suggest buying accessories in bulk along with your helmet, asking potential buyers/friends to purchase your accessories with their main helmet, or arranging group buys. New Olders is based in Brazil and shipping say a single visor to the US may rack up more shipping costs than the visor itself.
Like I said before, if you're considering New Olders, make sure to scan through social media posts for color accuracy.
Overall, I think this is a great and safe helmet if you have the time to burn, money to spend, and an itch for customization. But if you want something quick on delivery and you have a bit of a smaller head, I would also suggest buying from other local and established brands.